Thread grinding is done on a thread grinder. There are three methods of thread spreading grinding: single grinding wheel, multi - grinding wheel and longitudinal grinding.
Thread accuracy is a sum of many elements, including pitch, helical path, helix angle and major, minor and pitch diameters.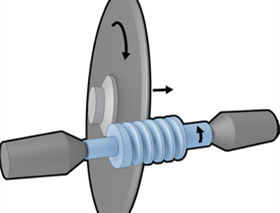 Single-Edge grinding wheel
Before grinding, dressing the grinding wheel into a shape consistent with the tooth shape, and make the grinding wheel axis tilt a spiral Angle relative to the workpiece axis. In thread grinding, the rotating motion of the workpiece and the movement of the table keep a certain expansion relationship, that is, the table moves a lead corresponding to each rotation of the workpiece.

Multi-edges infeed grinding method
Before grinding,using diamond rotary dresser to dressing diamond grinding wheel to to make up and bow and arrow tooth form the same multi-line ring groove cut into the method of grinding. when adopt infeed grinding method, the workpiece rotation two circle.Thread grinding productivity is higher, but the machining accuracy is low multi-edges plunge grinding wheel, grinding wheel width should be greater than the total length of screw thread surface is suitable for batch grinding ordinary thread.
Resin diamond grinding wheels will hold a fine edge longer than a vitrified wheel but they are more flexible and consequently, less suitable for accurate work, especially when there is lateral grinding pressure that causes wheel deflection. Vitrified diamond grinding wheels are utilized for obtaining extreme accuracy in thread form and lead because they are very rigid and not easily deflected by side pressure in grinding. Vitrified wheels are also recommended for internal grinding.
EDITOR: Doris Hu
POST: Doris Hu