PDC (Polycrystalline Diamond Compact) Cutter is kind of superhard material that compact polycrystalline diamond with tungsten carbide substrate at ultra-high temperature and pressure, have advantages of both diamond and tungsten carbide and featured high abrasion resistant, high impact resistant and high thermal stable.
PDC Cutters are widely to oil and gas drilling, geological exploration, coal mining and many other drilling and milling applications. Chain saw for marble and limestone quarry also need pdc cutter on it.
Marble, as a common building decoration material in our lives, is very difficult to mine. The chain saw cutting machine can cut the rough stone vertically or horizontally. The PDC cutters fix on the chain saw holder to use, it's widely used in the extraction of natural stone and decorative stone, such as rock, marble, limestone, etc.
Advantages of Chain saw with pdc cutter for marble and limestone quarry
* High wear resistance, high impact resistance, high thermal stability.
* Highidensity (low porosity)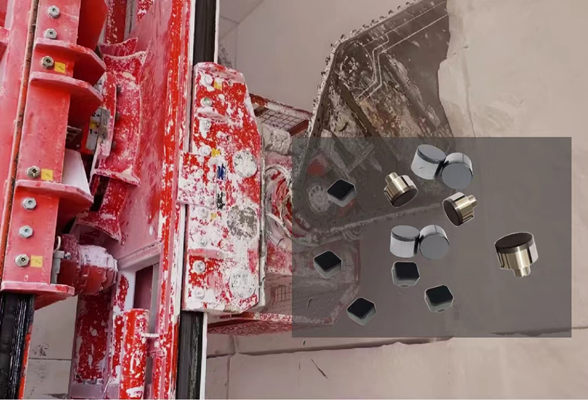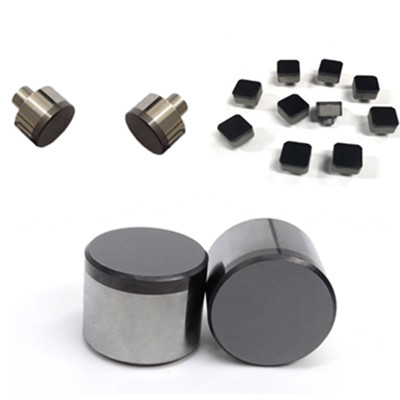 Speicifcation of PDC cutter for chain saw cutting machine:

Drawing

Type

Type

Size/mm

L

S

φd

Square PDC Cutter

S0808

8 mm

8 mm

——

S1008

10 mm

5 mm

——

S1308

10 mm

8 mm

——

S1313

13.3 mm

13.2 mm

——

S1613

16 mm

13.2 mm

——

Square PDC Cutter with Tail

S0808-04

8 mm

8 mm

4 mm

S1008-04

10 mm

5 mm

4 mm

S1308-04

10 mm

8 mm

4 mm

S1613-04

16 mm

13.2 mm

4 mm

S1613-06

16 mm

13.2 mm

6 mm

S······

··

··

··
Drawing

Type

Type

Size/mm

Φl.C

S

φd

Round PDC Cutter

R0805

8 mm

5 mm

——

R0808

8 mm

8 mm

——

R1005

10 mm

5 mm

——

R1008

10 mm

8 mm

——

R1304

13.3 mm

4.5 mm

——

R1305

13.3 mm

5 mm

——

R1308

13.4 mm

8 mm

——

R1313

13.4 mm

13.2 mm

——

R1613

16 mm

13.2 mm

——

Round PDC Cutter with Tail

R0808-04

8 mm

8 mm

4 mm

R0808-06

8 mm

8 mm

6 mm

R1008-04

10 mm

8 mm

4 mm

R1008-06

10 mm

8 mm

6 mm

R1308-04

13.4 mm

8 mm

4 mm

R1308-06

13.4 mm

8 mm

6 mm

R1313-04

13.4 mm

13.2 mm

4 mm

R1313-06

13.4 mm

13.2 mm

6 mm