At present, most of the tungsten carbide dead centers are used in the market, but for some high-end, high-hardness products, tungsten carbide materials wear extremely fast during use, processing accuracy cannot be guaranteed, and poor service life, resulting in dead centers frequent replacements. In addition, the equipment needs to be fine-tuned every time the dead centers is replaced, which causes too much redundant labor for the workers, which reduces the stability of the product and also greatly affects the processing efficiency.

For the current market demand,we have specially developed the superhard material diamond dead center. The diamond dead center is made of diamond polycrstalline material.Using special techniques embedded in the dead center base,The center base is made of high strength steel. Diamond polycrystalline materials are second only to natural diamond in hardness.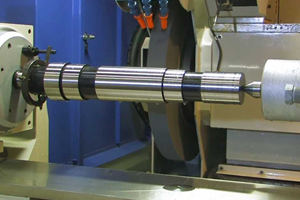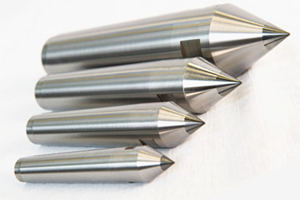 The advantages of PCD dead centers
* Ultra-high wear resistance, service life of 80-180 times that of hard alloy center.
* Good thermal conductivity, reduce the friction heat grnerated in the work and avoid the central hole of the workpiece being burned and deformed, causing changes in the central position and affecting the machining accuracy.
* The friction coefficient is much lower which cangreatly reduce the friction resistance. And the vibration of workpiece, to improve the processing accuracy.
* Polycrystalline diamond under 650° showed good chemical inertness, resistant to strong acid, alkali, suitable for all kinds of operating mode under the condition of work.
The specification of PCD dead center

Type

D2

D4

H1

L3

thread

L1

L2

L2-l1

Full Center

12.2

7








53.5

80

26.5

18

7








64

100

36

24.1

11








81

125

44

34.6

14








102.5

160

57.5

44.7

15.8








129.5

200

70.5

| | | | | | | | | |
| --- | --- | --- | --- | --- | --- | --- | --- | --- |
| Type | D2 | D4 | H1 | L3 | thread | L1 | L2 | L2-l1 |
| Half Center | 12.2 | 7 | 1.5 | 22 | | 53.5 | 80 | 26.5 |
| | 18 | 7 | 2 | 30 | | 64 | 100 | 36 |
| | 24.1 | 11 | 3 | 38 | | 81 | 125 | 44 |
| | 34.6 | 14 | 5 | 50 | | 102.5 | 160 | 57.5 |
| | 44.7 | 15.8 | 7 | 63 | | 129.5 | 200 | 70.5 |