Electroplated CBN grinding wheel for Gerber CAD Cutting Machine, Bullmer automated CNC Cutter machines, is used for machining metallic material such as chilled cast iron, founded alloy steel, titanium alloy and so on.
Electroplated CBN grinding wheel machining case
Product: electroplated CBN grinding wheel (mini CBN grinding wheel)

Abrasive: CBN (cubic boron nitride)

Application: CBN wheels for Bullmer automated CNC cutter mahcine, Gerber CAD cutting machine
Material of workpiece: HSS Material 64 HRC Hard
Cutting type: dry machining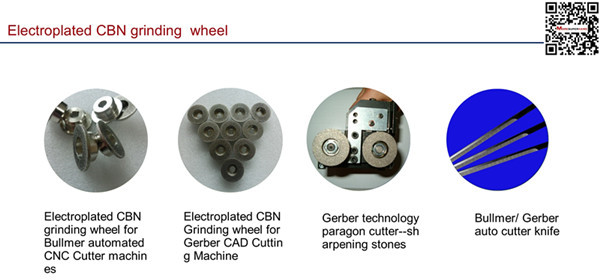 Applicable machines
electroplated diamond/ CBN grinding wheels are mainly parts of USA Gerber, Germany Bullmer, Italy Morgan CNC automatic cutting, etc.
CNC Cutter machines for material handling, material flow up to automatic cutting. Universally acclaimed high-quality, precision cutting systems with sorting and distribution technology for various widths and all desired lengths with the quality mark known all over the world.
Spare and wearing parts of the topcut-bullmer cutter procut