The new hybrid bond features a remarkable stock removal ability, allowing for reductions in grinding cycle times and improved dressing frequency. This bonding ensures good profile retention and a low and constant power absorption. The trend in Carbide Drill / Endmill manufacturers is clearly towards high productivity and consistent quality. This has put great demands on the Diamond wheel manufacturers to come up with wheels which can grind faster, put less strain on the machine and Job that is being ground.
Moresuperhard offers a perfectly matched range of diamond and cbn wheel that allow you to take full advantage of the CNC machine to manufacture your cutting tools. These wheels are made of a new generation HYBRID bond.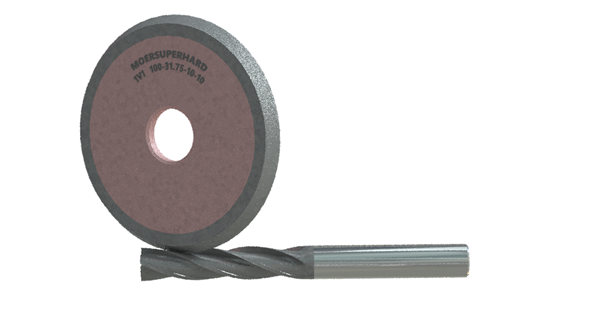 Applications of hybrid grinding wheels
Hybrid Diamond/CBN grinding wheel for fluting, gashing, clearance angle CNC grinding. For grinding rotary and profile grinding on tungsten carbide and ceramic inserts. In particular, it has an excellent grinding ability at carbide and steel tools (Hardened Carbon, Stainless, and Alloy Steels).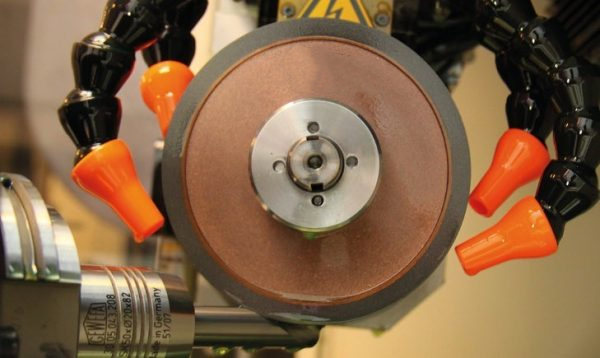 The customer case of Hybrid cbn wheel
Hybrid Bond CBN Grinding Wheel

With Steel & Balanced Body

Size: D200xH20xT18mm According to the drawing

Working parameter:

- For grinding hardened stainless steel, PM and stellite 12 grinding

- Hardened steel (mainly 1.2379 – 58 HRC)

- Rotation velocity = 42 m/s

- Line feed = 150 mm/min

- Coolant: oil TOTAL Valona GR 7007.

- CNC grinding machines: Schneeberger Corvus

-Dressing: WA hardness K with grit size 150#
Features of hybrid grinding wheels
- Hybrid owns both: strengths of Resin and Metal showing excellent grinding ability with long lifetime and shape holding.
- Hybrid Bond achieved a single pass at double the feed rate with no damage to the workpiece while achieving a 25% increase in finish.
- The Hybrid Series for Tool & Cutter Grinding uses Advanced Bond technology, allowing for a quicker grind without losing the wheel edge. Flute from solid, regrind, gash and end work, and relief.
- Excellent precision at the highest feed rates
- Increased productivity while lowering process costs
- Superior wheel life and long dressing interval
- Withstands cutting forces from high-speed, high-temperature applications
Comparison of binder properties
| | | | | |
| --- | --- | --- | --- | --- |
| | resin bond | metal bond | vitrified bond | hybrid bond |
| Stock removal | General | General | High | High |
| Freeness in cutting | General | Low | High | High |
| Wheel retentio | General | High | General | High |