HPHT mono crystal diamond (MCD) is also called as synthetic single crystal diamons (SCD). It is synthetic diamonds produced by high pressure high -temperature synthesis under tightly controlled growth conditions .
Advantages of HPHT single crystal diamond plate
* The ideal ultra-precision cutting tool material
* Large size,up to 7x 7 x 1 mm. (thickness 1.0-1.7mm)
* High toughness, Scratch proof and wear resistance
* High quality grade, pure color, better shape. High clarity under visible light and infrared light
* Great Thermal Stability,the unrivalled thermal conductivity ( > 2000 W cm − 2 K − 1 )
HPHT single crystal diamond plates are divided into Grade A, Grade B and Grade C
Grade A:with precise laser cut edge ,no missing angle,Clean crystal ,without any inclusions under the microscope
Grade B:a lack of angle,can see the minimal inclusions under the microscope
Grade C:a lack of angle, can see the visible inclusions and scrap inside under the lights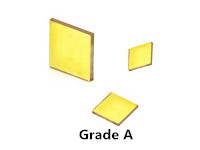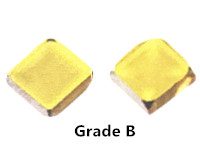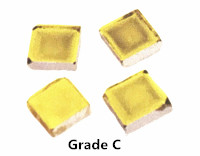 Diamond Laser Cutting for various shapes
Rectangle, Triangle, Round,sex-angle shapes are available.
Our comprehensive mechanical range



Generic

Application




Crystal Growth Process




Primary Application







Product Range







Cutting Tools&Wear Part




Single Crystal

CVD -Colourless

(Low nitrogen content)




Ultra precision machining

acrylics, copper, germanium

Generates very high surface finishes

Poly-crystalline

CVD - Opaque

(Low

nitrogen content)




Wide-ranging laser cut shape

and size for Precision machining

of MMC and CFRP materials

Wide-ranging laser cut shape and size for Precision machining

of MMC,

CFRP and woodworking materials.

Single Crystal

HPHT - Pale yellow

(Medium nitrogen

content)




Long edge length requirements

(e,g. profile tools)

Long edge length requirements

(e,g. controlled waviness tools)

Engineered cutting tools and

wear parts for super-finishing,

burnishing and wire guides

Convenient cut shapes(RECTANGLE,

TRIANGLE,ROUND)

Super-finishing and precision

machining e.g. precious metals

and MMC materials

Dressing

Single point, multipoint, blade,

roller and rotary dressing

Chisel dressing

chisel form dressing

Poly-crystalline

CVD - Opaque

(Low

nitrogen content)

Strong and more wear resistant

grade for single point and blade dressers

General purpose grade for

cutting tools and rotary dressers

Wire Drawing




HPHT Pale Yellow

(Medium

nitrogen content)




Wire drawing of ferrous, non

ferrous precious and

refractory metals


Specification of HPHT single crystal diamond plate
Available size

No.

Shapes

Size(mm)

Thickness(mm)

Orientation

SCD12

Near Square

1-4.5

0.3-1.7

4pt, 2pt

<100> <110> <111>

SCD22

Near Square

1-4.5

0.3-1.7

SCD13

Near Hexagon

1-8.0

0.3-1.7

SCD23

Near Square

1-8.0

0.3-1.7

SCD33

Near Square

1-8.0

1.0-1.2

SCD11

Rectangle/Triangle
Round/sex-angle ect

0.3-5.0

0.3-1.7

We have customized

1x2x3,1x1.2x4, 1.2x3x4, 1.2x4x5, 1x1x4, 1x1x5, 1x2x4, 0.5x2x4, 3.2x3.2x1.2, 1x1.5x3mm

Other size also can be customize other,contact [email protected]
Application of HPHT single crystal diamond plate

More Super Hard mainly produce industrial-grade single crystal synthetic diamond plate. It is used for cutting tools for non-ferrous and non-metallic materials , specialty tools (cutter, turning tools, carving tools,angle tools)